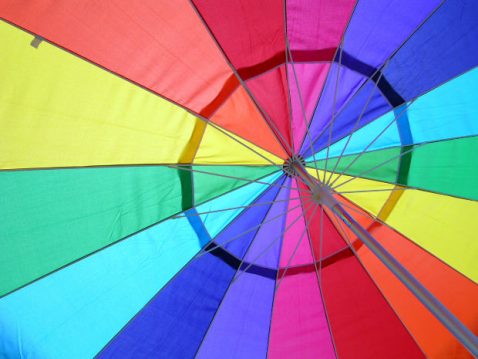 My husband and I, along with a few other people, recently went to a gay pride parade to pray for people. We had a few people warn us about going, along with others who wondered why we would even bother trying to pray for anyone in the gay community in the first place.
I am so glad we chose to go.
We were not out there to try to change anyone, but to love them. We didn't hold up any derogatory signs. We just loved them like Jesus loves them.
I was feeling apprehensive beforehand, because I didn't know how it would feel to step into the middle of an event that was saturated with what I have walked out of.
Once I got there, my fears were put to rest as I did not feel what I thought I would. What I did feel was such a love for people I didn't know and a strong desire to see people's hearts healed and set free. I looked around and saw many people who do not look like I do on the outside, but who I am sure – on the inside – do not look so different from what I have known in my life at all.
The Lord has put such a deep love in my heart for the LGBT (lesbian, gay, bi-sexual, transgendered) community, along with those who struggle with their sexuality in any way. I know and understand completely what it's like to have same-sex attractions. I also know and understand what it is like to want to live your life with someone of the same gender…to share your life with them. I understand and can empathize so much with those who are gay, because I have been there.
I have heard many accusations over the years about homosexuality being a choice. Yes, acting on it is a choice; but becoming straight is not merely an act of someone's will.
As the Lord has healed my heart in several areas over the last few years, I do not struggle with same-sex attractions at all like I used to. This was not a matter of my own will. This was something God did in my heart over a period of time, and something He continues to do. It has nothing to do with me finally figuring out how to turn off those feelings (believe me, I tried). I didn't finally figure out how to pray the "right" prayer or become strong enough to make those attractions go away.
This has been a work that God has done, and I have had nothing to do with it except for giving Him my life, trusting Him, and opening my heart to receive whatever He has for me. It has been a long and sometimes very difficult journey, but God has been with me every step of the way.
This is a subject that is so near and dear to my heart, but I have had great difficulty writing and speaking about it. I often feel in the middle of two (or more) different sides, wanting so much for everyone to let their walls and swords down for just one minute.
When we were at the parade, we were told several times about the people down the street who were holding derogatory signs and yelling at everyone. I knew they would be there, but my heart sank knowing that if I was ever a target of their signs and yelling, their actions would never have been an effective way to reach me for Jesus at all. It would have had quite the opposite effect.
Yes, it is true that people need to have Jesus as their Lord and Savior. We need to lovingly share the Truth with people, but screaming at them – degrading them – is only going to turn them away.
Wouldn't it turn you away?
My husband prayed for a man that morning who had scoliosis. This man was gay and openly discussing his sex life with my husband. As my husband prayed for him, this man said he felt a lot of heat in his back, and he knew God did something. I believe God not only touched his back, but his heart as well. He wants to touch all of our hearts.
Jesus healed this man while people just down the street (where he was headed) were yelling at people just like him.
This reminds me so much of Jesus and the woman who was about to be stoned…
Everyone needs to have revelation of how much God loves them. The Lord is so wanting to step into their lives and show them who He is and who He created them to be. He so desires to heal all of us physically, mentally, emotionally and spiritually and to have an intimate relationship with all of us as well.
I will definitely say it was a bit intimidating approaching people at the parade, because I knew what many of them would assume when we mentioned prayer. Several would not even look at us, and I believe much of this has to do with how they have been treated by the Christian community. Many of us have done a poor job representing God to them.
Our job is not to change others. We are to lead them to Jesus. The theme of the pride march was "All You Need is Love".  As a float went by me with that song playing, I was brought to tears. They are crying out for love, and the love they need most (just like you and I) is the love of the Father who created them for a very specific purpose.
I know it can be scary and intimidating to speak out on this subject, but I encourage you to please love the gay, lesbian, bi-sexual and transgendered people who come into your life. Show them how much God loves them, because He loves them just as much as He loves you. He desires to enter into an intimate relationship with them just as much as He wants to have that with you.
Please don't try to make them straight. They need to fall in love with Jesus, not the opposite sex. An intimate relationship with Jesus is the love we all crave, and this is also where transformation is birthed.
You may not agree with everything they are doing or everything they believe (just as they may not agree with you), but please try let your walls down a bit. If you could see their hearts, struggles and joys in life, I think you would see many more commonalities than you may expect.
Experiencing intimacy with the Lord has changed my entire life.
It is not our job to change people or to make them conform to what we believe. Yes, we need to share the truth with them in love, but God is the one who heals and changes hearts. He has surely done that in my life (and continues to do so), and hopefully yours as well. It is not our job to make people repent or to make them straight. Our job is to lead people (everyone) to Jesus. He is the one who heals, delivers and sets people free.
He is the one who loves all of us.