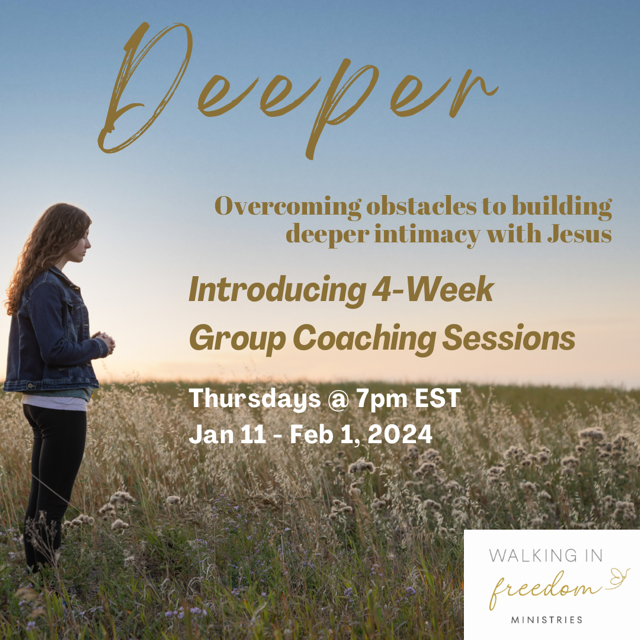 I'm excited to begin offering a 4-week group coaching program called, "Deeper". We will focus on overcoming obstacles to building deeper intimacy with Jesus and connecting with Him in a deeper way as a result.
Most women I talk to want to have a deeper relationship with Jesus. It's so common to want to pursue Him in a deeper way but also feel stuck and unsure how to actually have this.
For many years I pushed up against many (seemingly invisible) obstacles that were preventing me from pursuing a deeper relationship with God, despite how much I wanted something more.

Learning how to build deeper intimacy with Jesus has been life-changing for me, and I want to see this happen for you as well.
These group coaching sessions are designed to consist of teaching, discussion, Q&A, and time set aside specifically for the Lord to minister to your heart.
When:
Thursdays @ 7 pm EST from January 11 – February 1, 2024

During this 4-week group coaching program:
We will identify common barriers to building deeper intimacy with Jesus and then learn how to walk in freedom in these areas as we connect with Him in a deeper way.
You will be able to spend time connecting with the Lord as you practically apply what you learn each week during each group coaching session and as He ministers to your heart.
You will have the opportunity to connect with other women who also want to have deeper intimacy with Jesus.

What's included:
(4) video teachings
(4) 1 hour Zoom group coaching sessions
Total cost: $150

*Partial financial scholarships are available if needed. Contact me for more info.
I hope you can join us!
*This group will be limited to 8 women to keep it personal and the most effective.