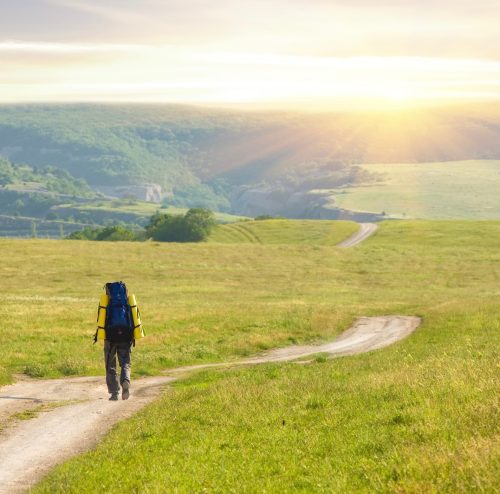 Several years ago, I saw a picture in my mind that I hope to never forget. I saw a man walking along the road with many things piled up on him (symbolizing burdens, strongholds, sin, etc.).

He looked very weighed down by them.
He wasn't focusing on that, though. Instead, he was looking forward in the direction he was walking, and he was following the light he saw ahead (representing Jesus).
As the man walked along the road and focused on the light ahead, the burdens started falling off of him (one by one). The part that surprised me was that he sometimes didn't even seem to notice when they were falling off of him, because he was so focused on the light ahead.
There were times he did notice something was gone, but he had no idea when it fell off. His focus was on the light. By the time he reached the light, much of what was weighing him down earlier had fallen off.
" But seek first the kingdom of God and his righteousness, and all these things will be added to you." Matthew 6:33
The Holy Spirit used that vision to speak directly to my heart. It was such a confirmation to me that I needed to focus on Him, not what I was trying to be set free from. I had spent years trying to be set free from some strongholds that brought me great shame. I was also trying to keep this hidden from everybody else. I thought I was the only one.
It took me some time to really embrace this, but when I started putting my focus on Jesus, (not what I was trying to be set free from) I found deeper healing.
What does it look like to put our focus on whatever we want to change (and not on God)?
I will give you an example from my own life. After confessing to my husband that I was looking at pornography years ago, I began the process of healing. I felt guilty and condemned myself for making such a mess of our marriage and I decided to take complete ownership to "fix" it.
While I did have a measure of responsibility in finding healing for myself and our marriage, I put it all on myself. I became plagued by worries of how I let that happen in the first place.
I tried my best to psychoanalyze myself. I read and studied about the subject often. When I wasn't reading about it, I was thinking about it and trying to figure out how to fix myself. I did all of this in an honest effort to take responsibility for what I had done, but what I ended up doing was (without recognizing this until years later) make it worse.
I put so much of a focus on it that my identity became wrapped up in it as well. I was praying about this and asking God to heal my heart all the time, so I didn't recognize that my focus was not in the right place. I felt like I was doing the right thing.
In all my striving, I put myself into even more bondage.
I finally started to realize what I had done. I cannot tell you how grieved I felt to realize that life went on (and I missed so much of it) while I was on such a mission to change and make up for the past. By that point, I was burned out on even the word pornography. I stopped writing about it, reading about it and the subject of same-sex attractions was something I knew I had to stay away from for awhile.
This is when I finally applied Matthew 6:33 to my life and I started putting my focus on seeking Him, not healing. Some days, especially in the beginning, I felt like nothing was happening. I felt as if I was ignoring the problem and living in denial. I also had fears that it would become worse if I didn't actively strive for freedom.
I can quite honestly tell you, that I was able to look back several months later and realize God was indeed healing my heart when I let go of the whole subject and put my focus on Him. While I was focusing on God, getting to know Jesus better and developing a more intimate relationship with Him, Jesus was healing my heart and giving me deeper healing than I had believed was possible.
Pornography is a topic that I don't really think too much about anymore, except in reference to helping someone else. It's totally different now. I am not saying I have done everything perfectly, (I haven't) but Jesus did that…not all my hard work.
What does it look like to put our focus on God?
I want this post to be practical, so I am giving you examples of what it looks like for me:
I didn't stop praying for healing and freedom, but I changed the way I prayed about it. Instead of continually asking God to heal me, I thanked Him for what He was doing in my life and thanked Him for the freedom He died for me to have.
When I would feel the urge to start figuring out how to be healed again, I would place it back in God's hands and thank Him for the work He was doing in my life. Psalm 55:22 says, "Cast your burden on the LORD, and he will sustain you; He will never permit the righteous to be moved".
For me, it was important to stop studying and reading about the subject for awhile. There's nothing wrong with finding resources to support you along the way, but I found myself using these things much more often than simply turning to God and choosing to trust that He could heal me even if I didn't understand everything. Revelation given by the Holy Spirit is much more powerful than information written by man.
I asked God to show me what my heart looked like. I surrendered my heart to Him and actively gave Him permission to speak to me about my heart's condition and to show me whatever I needed to see. (This is when talking with a mature Christian you trust is very helpful in order to process a lot of this.) The Holy Spirit will show you what you need to see. You don't have to go digging for it. If the Holy Spirit hi-lights something you need to start/stop doing, it is very important to follow through. He will give you the grace you need.
My prayer life radically changed as I started praying about many things other than what I was struggling with.
I concentrated on my walk with God. One summer I started walking with God on a trail at a local college. I would walk, pray and listen. Often times, I wouldn't even talk about the struggles I was having. I might mention them quickly, but then I would spend most of the time praising God for who He is while enjoying the time I was spending with Him.
When I would feel tempted in one of these areas (which will happen), I told the devil he was a liar and I would start thanking God for the person He created me to be. If you don't know who you are in Christ, you need to! Click here for some scriptures, and check out your own bible for more. Ask the Holy Spirit to give you examples of how this will look like in your own life, and He will help you. This is what you need to stand on and fight with when the enemy starts to tell you otherwise.
I learned how to rest in Him.
These are just a few examples of how we can shift the focus from our problems to fixing our attention on Christ. This will not only bring healing and freedom into your life, it will deepen your relationship with Him. Sometimes we can desire freedom from bondage above anything, but the best "prize" we  could ever have is a deep, intimate walk with Jesus. There is nothing that will satisfy your heart more.
What are some other ways can we put our focus on God instead of our struggles?
Related Podcast Episode