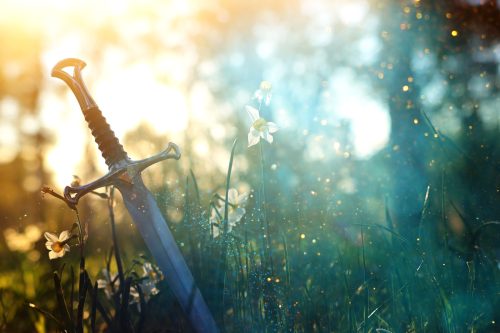 Have you felt repeatedly attacked recently, feeling confused and not sure what happened?
Are you feeling weary? Sometimes we can go through times when we feel worn down and discouraged.
Every once in a while, I start receiving emails and messages that are quite graphic (from people who do not like what I am doing). The more I share with other women that they are not alone and can be set free from sexual strongholds, the more graphic comments I receive that are sent to discourage or tempt me.
(I have learned to be much more careful and prayerful before reading my emails.)
I received a comment on one of my videos a while ago that was incredibly graphic. The person wrote it to throw temptation my way, stating I would never be able to get his comment out of my mind. Instead of deleting the comment as soon as I noticed where it was headed, I continued to read it out of shock that someone would actually say what he said to me (lesson learned).
That day I wanted to quit. But then I realized, this is exactly why I cannot quit.
The Holy Spirit has been hi-lighting Ephesians 6:11-18 to me since this happened, and I wanted to share this with you. (Take note of the hi-lighted areas below, as well.) God has not left us defenseless against attacks sent to throw us off and discourage us. He has already supplied us with all we need:
11 Put on God's whole armor [the armor of a heavy-armed soldier which God supplies], that you may be able successfully to stand up against [all] the strategies and the deceits of the devil.
12 For we are not wrestling with flesh and blood [contending only with physical opponents], but against the despotisms, against the powers, against [the master spirits who are] the world rulers of this present darkness, against the spirit forces of wickedness in the heavenly (supernatural) sphere.
13 Therefore put on God's complete armor, that you may be able to resist and stand your ground on the evil day [of danger], and, having done all [the crisis demands], to stand [firmly in your place].
14 Stand therefore [hold your ground], having tightened the belt of truth around your loins and having put on the breastplate of integrity and of moral rectitude and right standing with God,
15 And having shod your feet in preparation [to face the enemy with the firm-footed stability, the promptness, and the readiness produced by the good news] of the Gospel of peace.
16 Lift up over all the [covering] shield of saving faith, upon which you can quench all the flaming missiles of the wicked [one].
17 And take the helmet of salvation and the sword that the Spirit wields, which is the Word of God.
18 Pray at all times (on every occasion, in every season) in the Spirit, with all [manner of] prayer and entreaty. To that end keep alert and watch with strong purpose and perseverance, interceding in behalf of all the saints (God's consecrated people).
The armor of God is something God supplies for us to fight the battles we will face. This will help us to fight against all of the strategies the enemy will use against us. Our battle is not with people (as it may seem), but we are in the middle of a spiritual war.
Darts will be fired at you, but God has given you armor to protect you.
The enemy knows what has worked with you before. He will continue to try to tempt, discourage, anger and defeat you, and try what worked in the past, even if it seems to come to you in a new (but similar) way. Proclaim out loud what the Lord has done, and stand on His Word.
You conquer the enemy by the blood of the lamb and the utterance of your testimony (Rev. 12:11).
Stand your ground and keep your eyes on the Lord. If you fall, get back up and put your eyes back on Him again.
Condemning yourself will only keep you down longer. Know who you are in Christ. Know who God created you to be, and don't let the enemy (through whatever means he uses) convince you otherwise. If you have given your life to Christ, you are a new creation.
Fire back with who God says you were created to be.
Pray and keep alert to the way the enemy works. This does not at all mean to walk around in fear of what might happen, but it means to simply be aware of the tactics of the enemy and keep your focus on Jesus.
Be aware of your surroundings. Listen to the Holy Spirit's voice. Pray at all times, in all seasons.
Develop a deep intimacy with Him. You will then begin to recognize the red flags He shows you along the way (before the enemy strikes) and the direction you should go when missiles are launched at you.
Are you in the middle of a battle?
Fight with the armor God has given you. He has already provided you with everything you need. Use everything He has given you. No weapon formed against you will prosper (Isa. 54:17).
Are you in a time of peace?
Do not wait until times are tough. Put His armor on and stand guard now, persevering in your faith. You will be ready when a missile is fired in your direction.
Thank you, Father God, that you have equipped us with armor to fight our battles. You have given us the armor of a heavy-armed soldier, that we may be able to successfully stand up against all (yes, all) the strategies and the deceits of the devil. In Jesus' name we pray. Amen.
Related Podcast Episode