Practicing Transparency with God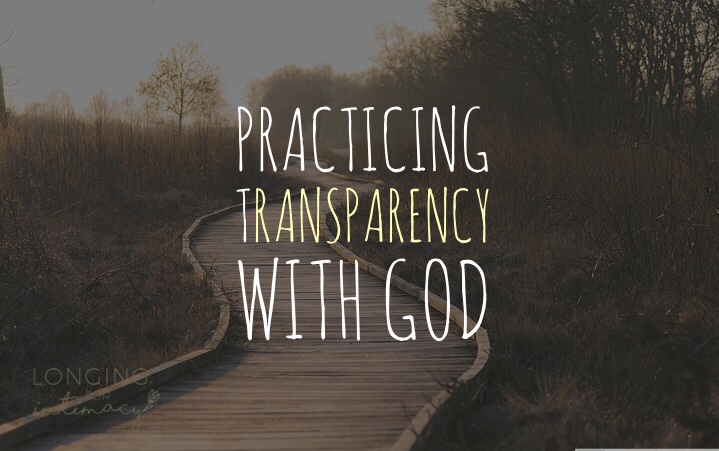 How transparent are you with God?
The more I learn how to open up to God about the very things I really don't want to talk about, the more I come up against a false belief that I have had practically my entire life.
Deep down, I have believed that I should be fearful and nervous about telling Him what's going on in my heart. I have fought the belief for quite some time that the Holy Spirit is someone who wants me to do the right thing (behavior) and push aside what's going on inside of me (my motives and heart issues).
I grew up in a home where good performance was especially praised. My dad was a teacher, and it seemed that everyone in our community knew him. I learned how to blend in and behave myself in public. Even when my heart and thoughts did not match up, no one knew. I put an incredible emphasis on my behavior, not my heart. I didn't know that what was going on inside of me was important. I thought everything just came down to making sure my actions were in line with what others expected of me. (And when they weren't in line, making sure no one ever found out.) This exploded on me later in life as I had such a mess in my heart that I had ignored my whole life.
Do you put on your best behavior around God and others, knowing full well that what's going on in your heart doesn't match? I know that I have rewarded my kids for behaving, when I knew they were only restraining and masking what they felt inside. I rewarded good behavior (as if it was most important) but I regretfully never took the time to touch on what I could see going on in their hearts on the inside.
How many of us believe on some level that as long as we do what we're supposed to do we get a checkmark from God, even if our heart is a mess? As if He doesn't really want to hear what's going on with us on the inside?
We don't want a heart that feels broken, fractured, or toxic, but we often don't know that we have any other option but to try to hide or adapt to it.
Certainly it is wise to talk to trusted people in our lives, but sometimes we are unable to. Depending on the amount of shame attached to the content of what we're dealing with, we may not always feel able to talk to someone. Maybe we have tried talking to someone, and it didn't go well. Sometimes, due to many different circumstances, there isn't anyone to talk to.
It is so important to know, whether we have someone else to talk to or not, we can take everything to Jesus. It's not easy, but learning how to be transparent with God is invaluable to our relationship with Him. He knows the real importance of our hearts and wants us to express to Him what is going on with us on the inside. In doing this, He can show us lies we have been believing. He can reveal His truth to us regarding our situation.
He doesn't want an act.
There is power and healing that comes when we express to Jesus the deepest parts of our hearts.
Are you able to go before God and be transparent about the pain in your heart, sin, and even be willing to admit when your motivations regarding certain situations haven't been right? Going before Him in this way is always humbling and can also feel incredibly scary when you are not used to it.
Psalm 62:8 says, "Trust in him at all times, O people; pour out your heart before him; God is a refuge for us. Selah"
When experiencing deep pain, this is an excellent opportunity to practice transparency with God. There are times when we may be going through a season of deep grief or sorrow. Pouring our hearts out to God during times like this can make all the difference. It draws us closer to Him, rather than turning away when our hearts are hurting. Our situations may not immediately change, but our hearts will when we openly surrender these situations to Him and lay everything down before Him.
In Psalm 13, David transparently pours his heart out to God:
"How long, O Lord? Will you forget me forever? How long will you hide your face from me? How long must I take counsel in my soul and have sorrow in my heart all the day? How long shall my enemy be exalted over me? Consider and answer me, O Lord my God; light up my eyes, lest I sleep the sleep of death, lest my enemy say, "I have prevailed over him," lest my foes rejoice because I am shaken. But I have trusted in your steadfast love; my heart shall rejoice in your salvation. I will sing to the Lord, because he has dealt bountifully with me".
Have you been able to be transparent with God in this way? We need to be able to go before Him concerning everything.
The very thing you feel you can't talk to Him about is the thing you need to talk to Him about. Learning to be transparent with Him can help set you free from the shame that often tries to hard to keep you quiet.
Part of practicing transparency with Jesus is having an awareness that He is with us always. We don't have to wait to go to a conference to pour our hearts out to Him and hear from Him. He is with us always.
Practicing transparency and hearing from Him doesn't need to start at a conference or a big event we are waiting for or sometime in the future when you have your life together. It begins at home when we are getting ready for work. It begins when we are worrying about something during the day. Practicing transparency is something that can and should be part of our every day lives.
We all know the Holy Spirit is here with us, but when we have an awareness that He is truly here with us and waiting to talk with us, we will know that we don't have to wait for the "big stuff" to pour our hearts out to Him. Then when the big stuff comes, it won't be so excruciatingly difficult to talk to Him openly about it.
I encourage you to start practicing transparency with Jesus, if you haven't already. Talk to Him in the car. Do this out loud. Be transparent. Say the real stuff, not what you think you should say. He is waiting to build this kind of intimacy with you. Start out with one sentence if you don't know how to say any more.
Maybe you used to do this but stopped. Don't let guilt and condemnation continue to stand in the way. You can push past it and begin again. Pour your heart out to Him. Today is a good day to start! Pouring your heart out to Him will help clean out the junk in your (and my) heart.
Don't forget to be still and listen for His still, small voice when you are done.