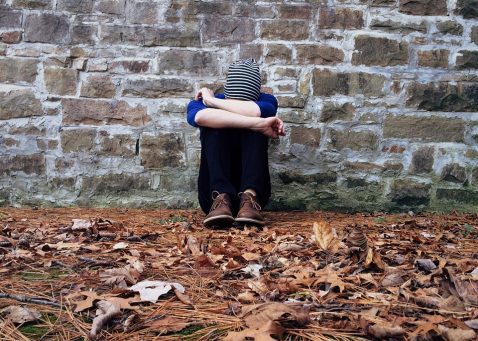 There was a time when I found myself starting to get very restless and angry. I was finding myself tempted in ways that I had not been tempted in a long time. I started feeling so weary.
There were also areas in my marriage that needed healed (that I had been praying about for years), and all I heard was silence when I prayed about it. I was feeling such incredible guilt, shame, and condemnation. The horrible dreams I used to have came back, and it felt like I was living one life at night and another one during the day.
Seemingly every part of my life had become so incredibly difficult, and God became silent.
I started to feel like I just spent my whole life avoiding things and not letting myself do this, or do that. I felt like I had to keep myself locked in a prison to keep me safe – from myself. I didn't trust my thoughts or where they would take me, and I felt like I was living in such a limited little box. It was a safe box, but I didn't sense any life in it at all.
Every time we sang about freedom in church, I just wanted to run out of the room. I started to wonder if freedom was even real. (This was a little scary, considering my husband and I were leading the Freedom Ministry in our church. 🙂 ) I just wanted God to finally set me free, and I was starting to resent God not moving any quicker than He was. This is from my journal during that time:
"I feel lately as if every day all I do is just withhold things from myself. That's my life. Withholding things from myself that I want but know I can't (and shouldn't) have…things that won't bring me ultimate satisfaction anyhow. I am somehow living the opposite of freedom, and I am so tired of that word "freedom", anyhow. What is freedom, anyway? At this point, freedom seems very boring to me. It's an illusion. I keep walking towards it, thinking I see it up ahead, but when I get there I discover it was just a mirage.

I know it can't be true, but I feel as if you have abandoned me, God. You have just forgotten me. Why do you heal some people so quickly, but I always have to wait forever? I can pray for others to be set free, but I can't seem to find it for myself. I'm just so tired of this.

People keep telling me that you are doing a deeper work in me, and You will use it to help others someday. I have always cared about others, but right now I would rather just be healed. What about me for once? When will I be healed? I have had enough. A small part of me knows that this has to be part of the process…a very necessary part of it. I keep trying to encourage myself, but I am so tired of this.  I just want to be set free. Jesus, please set me free".
Further down the road now, I can definitely say that true freedom is not a life of chaining yourself up in a prison with a list of "do not's"!
While at times my walk would feel very narrow with very high and boring walls on each side of me, I began to see that one day I would come out the other side with no walls. No chains. No bondage. Freedom is not boring. There is a path that leads to freedom, but the destination is not at all boring.
There is life in freedom. That seemed like such an illusion to me for so long, but I'm so glad I fought for it! Jesus had life for me on the other side!
I still have areas in my life where I am seeking freedom, and I probably will until the day I die. I see now, though, that if I gave up I wouldn't be where I am now. I am in a place where I am experiencing so much peace, rest and intimacy with Christ, and it's something I could have only imagined before.
Is there something that you have been waiting a really long time for? Maybe it seems like everyone else is getting healed, but you fear that God has passed you by (again). The road to get there can seem so long sometimes, but don't give up! Rest when you should, and get back up. Ask Him for help. Ask Him for wisdom. Let Him refine you. Continue to seek after Him, even in the silence. 
If you don't have anyone to talk to about this, pray that God sends someone to you who you can trust. Talking through these things (even if the other person just listens) can be so helpful. God will give you the grace to walk to the destination He has for you.
You can do this with His help.
He is fighting for you!
Galatians 6:9, "So let's not get tired of doing what is good. At just the right time we will reap a harvest of blessing if we don't give up."
Isaiah 40:31, "But those who trust in the LORD will find new strength. They will soar high on wings like eagles. They will run and not grow weary. They will walk and not faint."